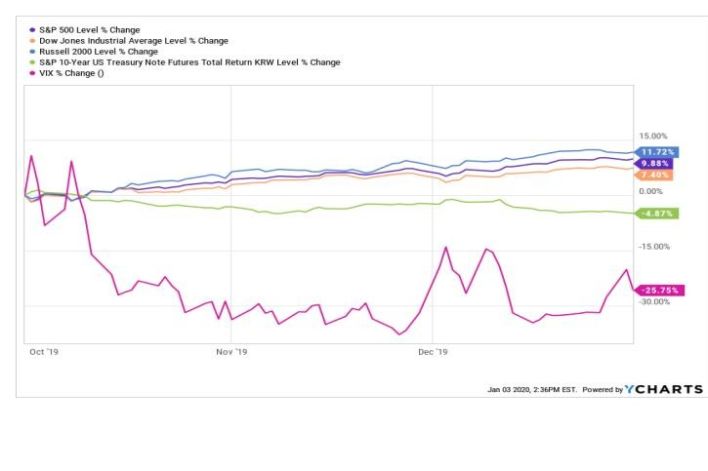 2019 4th Quarter Market Update
In the face of several potential market landmines, the S&P 500 surged for a 9.88% return in the final three months and rounded out the best year since 2013.
Exhibit 1. Fourth Quarter Performance
During the quarter, capital markets were met with spurts of increased volatility (though it declined for the quarter) brought on by Fed uncertainty, US-China trade negotiations, mixed earnings, economic sluggishness, and impeachment proceedings. We felt significant negativity from a singular event or combination of events could have halted the bullishness in the market and sent stocks lower. While we were delivered some negative news from retail earnings, a comment from President Trump about pushing the trade deal until after the election, and two articles of impeachment brought against the president, markets only momentarily paused before pushing higher. Exhibit 1 shows the volatility spikes paired with the stock and bond market reactions. As is evident, those spikes were met with little downside in stocks as well as small ticks higher in bonds.
The fourth quarter did deliver many positive developments for trade and retirement planning. We saw a Phase One trade deal announced in principal with a projected signing date of January 15. In addition, the USMCA trade agreement passed the House and moves to the Senate. Ultimate ratification appears to be delayed until the impeachment hearings are over, however. In addition to the trade deals, the SECURE Act was signed into law.
The financial market impact of this law is likely to be limited but it does change the age for required minimum distributions and the requirements for distributing inherited retirement accounts (IRA, 401(k), SIMPLE, SEP).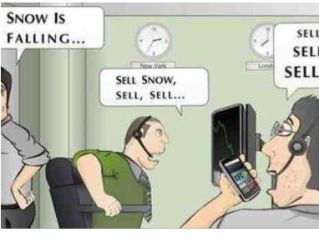 Looking ahead to the first quarter of 2020, we remain cautious. Historically low volatility levels, political tension with the Middle East, a slowing economy, and comparatively high valuations remind us not to be complacent when deploying capital. We will look for opportunities to put cash to work over the coming quarter with a continued tilt toward larger, more stable companies.
Happy Winter! We wish you all a happy and prosperous new year and look forward to what the year brings us.