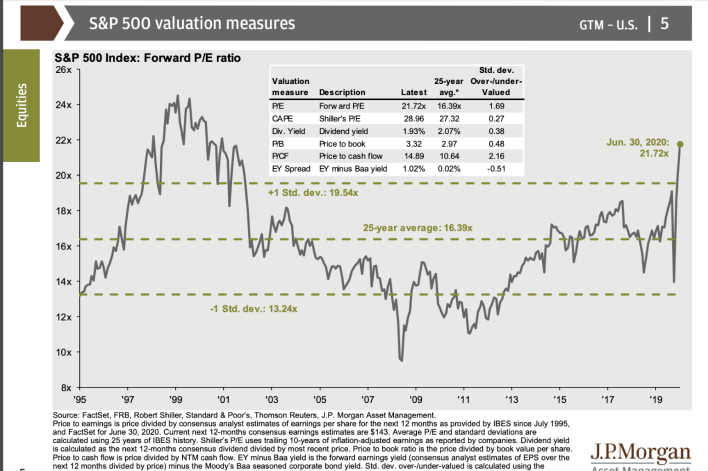 DWG 2nd Quarter 2020 Market Update
Market participants looked past all of the economic damage wrought by the Covid-19 shutdowns as well as looming earnings weakness to fuel a historic run in equities in the second quarter. Hope of a vaccine, Fed intervention, and unprecedented market speculation fueled the rally from the March low. As Exhibit 1 depicts, the tech-heavy Nasdaq soared to a 36.66% return and reached new highs while the Dow 30 and S&P 500 posted strong gains but remained in negative territory for the year.
Exhibit 1.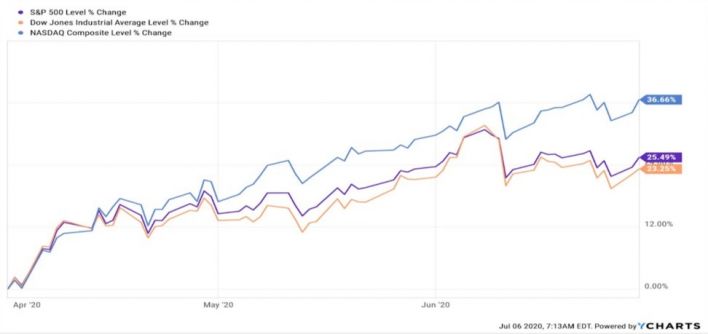 Our Take
We believe the blowout quarter has pushed stocks too far too fast. A rebound in equities was bound to happen following such a quick, deep drop from February highs. What we're seeing now are extended valuations and a stock market priced to perfection, meaning a V-shaped economic recovery and earnings to return at a rapid pace. Exhibit 2 indicates the S&P 500 is at a forward P/E not seen since the Tech bubble imploded in 1999/2000. Without blinders on, we don't feel these levels are sustainable.
Exhibit 2.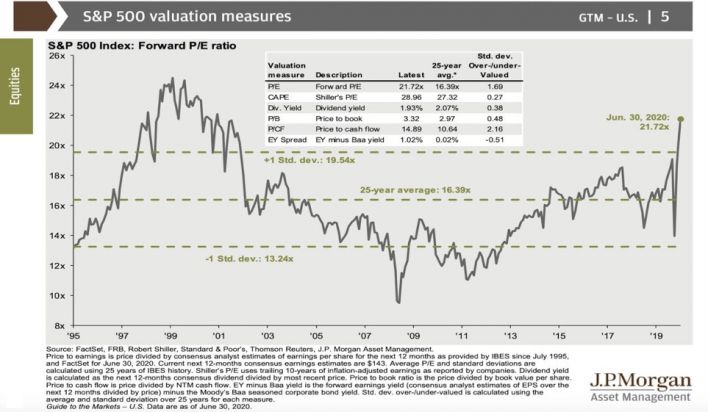 The reality as we see it is cases of Covid-19 are higher now than at any point during the second quarter and businesses are either voluntarily closing or being ordered to shut down to slow the spread. Lost earnings have not been taken into account nor has the effect on consumer sentiment. Our feeling is the irrationality of the current stock market could continue to persist so long as hope remains and market participants continue to look past all of the potentially bad earnings numbers to rosier skies expected later this year and into 2021. Capital preservation is our goal during turbulent times and right now is no different. We are holding cash as a means to protect. A. Gary Schilling said, "The markets can stay irrational a lot longer than you and I can remain solvent." It is at this moment we would rather err on the side of caution and not play the games as we feel a reversion has a high likelihood of occurring. Cash will be deployed when the fundamentals are more in line with valuations.
We at DWG hope you are well and are here to answer any questions you may have.