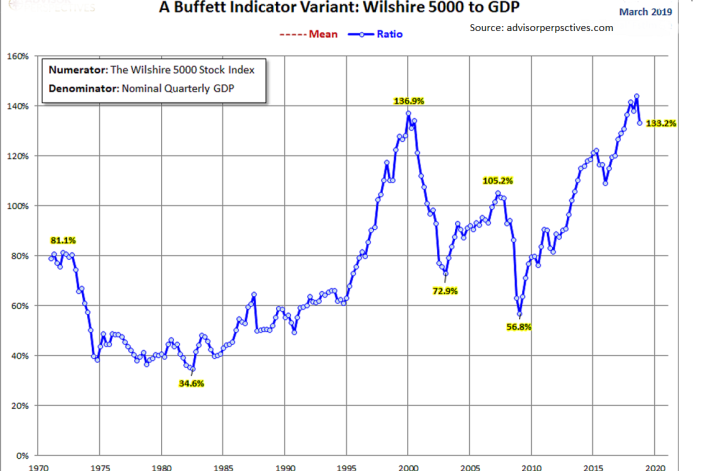 The Confidence Tribe!
Welcome to The Confidence Tribe - Our Blog to Empower Confidence!
Here you will find market and financial planning related content to help you build confidence in your financial future. Please share it with your family and friends and start empowering confidence today.
As we mark the 10th anniversary of the 2009 US equity market bottom, we felt it is a good time to revisit the equity market valuations discussion.
The above chart is a ratio of the Wilshire 5000 equity market index to the US GDP/ US economy (as of March 2019). This chart provides a useful perspective on equity market valuations compared to the size of the US economy.
Notice the value of this ratio at the market bottom in 2009 (56.8%) and at prior peak in the year 2000 (136.9%). We are currently closer to the peak (over 140%) marked in 2018.
Generally speaking, a lower value for this ratio means stocks are cheaper and a higher value means that stocks are relatively expensive. Warren Buffett, the legendary investor, also likes this indicator as a simple measure that investors can use to find out if stocks are cheap or expensive. In the past, he has said that the value of this ratio below 100% means the overall stock market is a better value than when this ratio is above 100%.
Of course, a lot of factors go into valuing stocks: corporate profits and profit margins, inflation and interest rate environment (monetary policy), fiscal policy, and the overall economic backdrop — these are some of the key elements that drive stock prices.
With corporate profit and profit margins at historical highs and the inflation and interest rate environment much benign, stocks are currently valued on the higher side.
Of late, the economic growth trajectory is weakening and the corporate profit backdrop has worsened somewhat, which has led us to become more cautious about the outlook for riskier assets like stocks. While we are more cautious about the economic climate, there are also investment opportunities that we find compelling. Sometimes the best time to invest is when markets are more volatile and there is excessive fear.
As always we remain vigilant and will take further portfolio protective action if warranted. We will also take advantage of good investment opportunities when presented.
If you would like to sign up for our newsletter, please send us an email @invest@dardenwealth.com
Thank you for visiting — please visit us again next month!